Dual Mass Flywheel DMF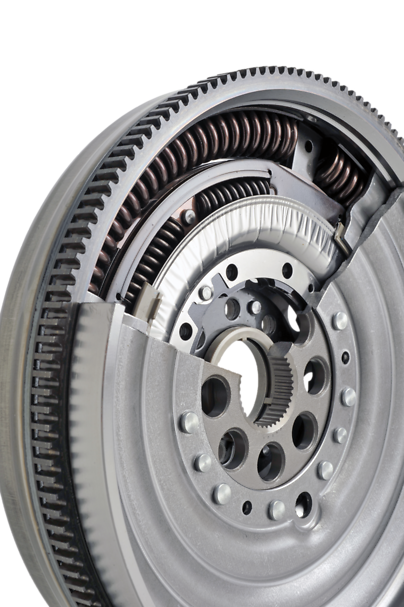 The Technology perfectly filters out engine torsion vibrations and improves shifting comfort in addition to noise reduction
The Dual Mass Flywheel (DMF) is the best flywheel option for vehicle efficiency and driver comfort. Every second car that rolls off the assembly line is fitted with a DMF - and that rate is continuously increasing.
Modern engines run with lower idle speeds, requiring vibration damping to start at lower speeds without compromising torque capacity.
As vehicles become more aerodynamic and chassis become lighter and more rigid, vibrations become more apparent, so the level of damping must also increase.
The DMF improves driver comfort and protects the sensitive gearbox and rest of the vehicle against engine vibrations thanks to two independent flywheels connected via a bearing or bushing, including a damper system. 
The primary flywheel is bolted directly to the crankshaft and contains the damping springs.
The secondary flywheel has a conventional clutch cover and a solid drive plate mounted to it.
The objective is to increase the transmission's mass moment of inertia without increasing the mass to be shifted (flywheel weight) or in other words, to equalise the inertia between the gearbox and flywheel.
The engine's inertia will absorb the mass moment of inertia for the primary side, whilst the secondary part increases the transmission's internal inertia. The main advantage is greater angular damping which allows for maximum filtration of vibration. 
DMFs have been in production since the 1980s. Since then, Valeo has continued to strengthen its presence among different car manufacturers, making it a key solution provider for designing and producing suitable DMFs for improved driveline technologies.
Valeo proposes 5 innovative solutions: curved-spring, inner damper, LTD, Pendulum, VBlade.