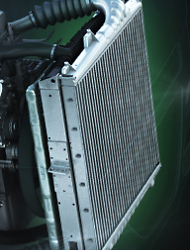 Truck Cooling & Air Management Systems and Parts
Valeo is a thermal loop specialist in engine cooling for trucks. Valeo has a complete product offer with radiators, intercoolers, frameless radiators, and radiator-intercooler cores.
Valeo's aftermarket offer leverages its OE expertise: the range complies with the strictest tests to ensure durability, reliability and engine cooling performance. With hundreds of references, the Valeo engine cooling range covers 85% of European heavy-duty trucks.