Clutch range for cars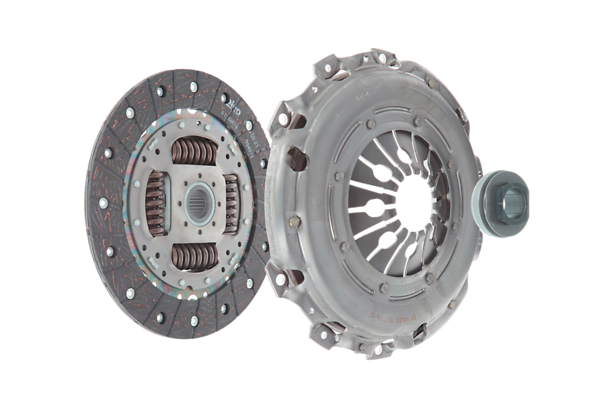 Valeo Original Equipment (OE) quality manufacturer since 1923
Valeo has over 90 years of experience in engineering and producing friction material for clutches. Today, 1 in 3 vehicles are equipped with Valeo clutches, making Valeo a leading OE supplier of transmission systems.
Valeo is a major OE partner of most car manufacturers who equip their new vehicles with Valeo car clutch kits, hydraulics, and dual mass flywheels from the factory. 
Valeo also offers its clutch parts and clutch kits to the aftermarket with the same OE quality from its plants in France, Korea, Spain, Italy, and Turkey.  
Why choose Valeo innovation and technology?
Valeo offers premium and classic product ranges to meet all your garage's requirements.
This offer covers a wide range of car clutch solutions, including dual mass flywheels, traditional clutch kits, and clutch conversion kits like the Kit4P.
The Kit4P converts a dual mass flywheel transmission to a solid flywheel, which is backed by a 1 million km warranty. 
Valeo uses the best technologies (including SAT & HEC technologies) and materials for a smooth, high-performance experience. 
Valeo's facings offer superior performance compared to leading facings, offering a better gear switch with a 20% lower density. Valeo's best-in-class, environmentally-friendly friction material is preferred by manufacturers. In fact, they often request that competitors use Valeo friction material facings on their clutches. 
Valeo Traditional Clutch Kits
Valeo's traditional clutch kits bring great value for money to a wide range of models.
Valeo offers optimum coverage for all your needs with 2716 car clutch kit products and 49 products in the classic clutch kit category. This includes: 
459 Kit2P (Clutch disc and clutch cover)
1072 Kit3P (Clutch disc, clutch cover, and mechanical bearing)
348 Kit3P + CSC (Clutch disc, clutch cover, and hydraulic bearing)
Valeo Traditional Clutch Kits with CSC
Valeo's traditional clutch kits with Concentric Slave Cylinder (CSC) bring the weight, vibration, and comfort advantages of CSCs to an easy-to-install kit.
This customised offering makes it easy to meet your garage's specific requirements.  
Easy to order: parts come in one box; no risk of mismatching components.
Easy to fit: all the high-quality OE parts required for fitting are provided in the box.
Value for money: our all-in-one solution offers better value for money than individual components.
Valeo, the transmission system specialist
We share our technical expertise with aftermarket customers by offering fitting instructions (included in the box), training and technical assistance.
Watch our free webinar about the Valeo Kit4P system to learn more about our car clutch conversion kits. 
You'll discover the advantages of the Kit4P's solid flywheel versus a dual mass flywheel and which vehicles are well suited for a clutch conversion.
We'll answer common questions about the kit and explore the cases when the clutch kit is not compatible with a vehicle. We also have video guides for fitting Valeo clutch parts in the Tech@assist webinar portal. 


 
---
*Valeo high-quality friction material
**Durability and lifetime are also impacted by the vehicle and driving conditions