Passenger Car Clutch and Flywheel Kit Valeo KIT4P™ Conversion Kit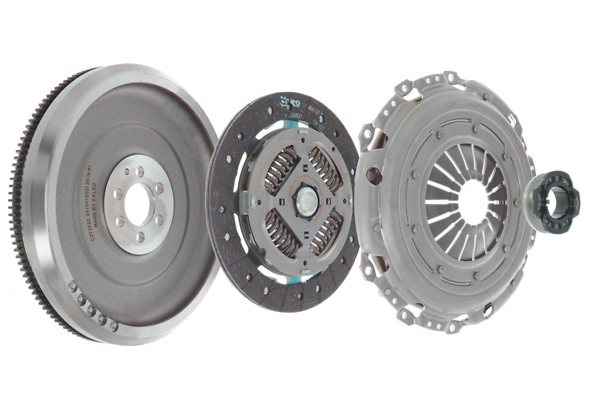 Valeo has been building clutch systems since 1923. Our longstanding expertise has resulted in a wide range of innovations, like the KIT4P solid flywheel clutch kit.
Today, Valeo supplies 1 out of every 3 clutches for cars in Europe and provides a complete range of clutch parts and clutch kits to the Independent Aftermarket.
Valeo Service now offers more than 3,400 part numbers (clutch kits and components) for passenger cars in the aftermarket covering 90% of the total European carparc, with a major presence among all major car makers such as French, German, Korean, Japanese, Italian manufacturers.
Choose Valeo's Wide Range of Traditional Clutch Kits :
Valeo offers a wide range of clutch kits to fit your vehicle's needs and your budget.
More powerful engines, longer gear ratios and new lifetime specifications have led to the development and introduction of more complex car clutch designs such as Valeo SAT (Self Adjusting Technology).
The SAT is a Valeo revolutionary technology that uses a self-adjusting facing with a wear compensation device on the pressure plate, thereby enhancing the clutch life and improving pedal comfort. Valeo also supplies its self-adjusting technology to truck manufacturers.
As an aftermarket solution provider, Valeo engineers have designed a new technically advanced clutch kit named HEC (High Efficiency Clutch) to replace the competitors' self-adjusting clutch and give full satisfaction in terms of quality, reliability and durability.
This result is achieved with an improved clutch cover assembly and a low-wear facing (ranging from 190 mm to 260 mm), resulting from years of research in Valeo's R&D centres. This solution does not require a specialist tool to facilitates fitting operations.
The KIT4P clutch kit provides a complete conversion kit to replace a dual mass flywheel with a solid flywheel for longer durability. The solid flywheel is guaranteed with a 1 million km warranty. 
The Valeo clutch kit offer also includes:
3PKIT including concentric slave cylinder (CSC): more than 500 part numbers available
Self adjusting technology (SAT): 74 part numbers available
LCV clutches: 434 part numbers available of which 100 part numbers are remanufactured
An expanding car clutch offer for Korean and Japanese car application :
Valeo provides large business opportunities for Asian clutch part applications, with the same level of quality and services as Valeo's other ranges.
Valeo is investing in all product lines to vastly extend its clutch kit offer for Korean and Japanese vehicles and help you to rationalise your sourcing. 
Thanks to the car clutch range (including over 670 kit part numbers), Valeo's estimated Asian car range coverage is now at 80%.
Some well-known clutch applications are available for Hyundai Accent, Nissan Micra, Daewoo Matiz, Suzuki Grand Vitara and Toyota Aygo & Yaris and many more.
Valeo Clutch Conversion Kits
Want to know more about Valeo Clutch Conversion Kits? Watch our free 50-minute webinar for an in-depth explanation of the Valeo KIT4P Clutch Conversion Kit.
Are DMFs better than solid flywheels? Learn about the pros and cons of different flywheel types and which vehicles are compatible with the KIT4P system.
You may also be interested in our short webinar on interpreting foreign language labels on clutch friction plates.
---
FAQ ⤵︎

What is the Function of the Clutch?

The clutch transmits the torque (force generated by the engine) to the gearbox — and from it power is sent to the wheels. Therefore, the main function of the clutch is to connect and disconnect the engine from the gearbox.

The connection and disconnection process between the engine and gearbox is performed several times each time the driver uses the clutch pedal. In order to shift gears, the gearbox needs to be disconnected from the engine when the clutch is activated.

The clutch is composed of several parts with specific functions. Find out what these components are and what they're for.

Clutch Cover Applies pressure to actuate the disk

Clutch Disk: Transmits engine torque to the gearbox

Clutch Bearing: Uses mechanical pressure to push the disk membrane spring

Clutch Actuator: Uses hydraulic pressure to push the membrane spring

 

What is a Clutch Kit??

The clutch kit is a set of components that are responsible for connecting and disconnecting the engine from the gearbox, allowing the transfer of torque generated by the engine during vehicle acceleration and disconnection in gear shifts.

 

Slipping Clutch: What May Be Causing This Problem?

Slipping occurs when the clutch disk coating has reached the end of its life. This problem can also occur due to an excess of preload on the drive system or due to some leakage from the vehicle gearbox, such as a leak from the primary axle seal of the gearbox, leaks from the flywheel seal of the engine/crankshaft, or by placing an excess of grease on the clutch kit bearing during the installation process. In these situations, the clutch disk no longer has enough friction to transmit the entire engine rotation to the gear, generating slippage.

 

How to Solve the Clutch Slipping Problem?

To solve the clutch slipping problem, the first step is to perform a thorough overhaul of the vehicle's transmission system to ensure that there is no leak that could contaminate the clutch and interfere with its durability. Once this review is done, it is necessary to replace the clutch kit with a new one because –due to the situations detailed in the previous question– it is no longer possible to reuse the same parts.

 

How to Solve a Rattling Clutch Problem?

As with slippage, judder can also be caused by contamination and excess preload in the drive system, but there are some other conditions that can influence the problem in question, such as inadequate clutch platform attachment and lack of flatness on the face of the engine flywheel. Under these conditions the clutch disk cannot maintain constant contact between the disk and the flywheel wheel, thus generating rattling.

 

Is Clutch Judder a Sign of Wear on Parts?

Except for cases where judder was caused during the clutch kit installation process, all other problems are caused by wear on system components such as the engine flywheel and gearbox and engine seals. Therefore, it is important to carry out the review of the system completely, and not only replace the clutch kit.

 

How To Troubleshoot Difficulties When Installing Clutch Kit Parts

If you have questions or encounter any difficulty installing parts for the Valeo clutch kit, please contact Valeo's technical assistance hotline. Valeo's team of experts is prepared to resolve any problem quickly and remotely, providing all necessary assistance during the parts installation process.