Passenger Car Clutch and Flywheel Kit Valeo KIT4P™ Conversion Kit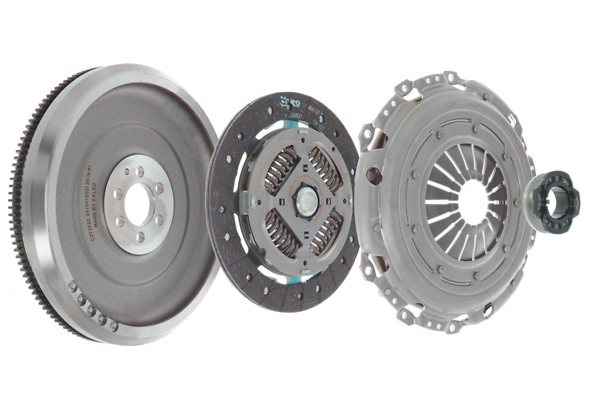 Valeo has been building clutch systems since 1923. Our longstanding expertise has resulted in a wide range of innovations, like the KIT4P solid flywheel clutch kit.
Today, Valeo supplies 1 out of every 3 clutches for cars in Europe and provides a complete range of clutch parts and clutch kits to the Independent Aftermarket.
Valeo Service now offers more than 3,400 part numbers (clutch kits and components) for passenger cars in the aftermarket covering 90% of the total European carparc, with a major presence among all major car makers such as French, German, Korean, Japanese, Italian manufacturers.
Choose Valeo's Wide Range of Traditional Clutch Kits :
Valeo offers a wide range of clutch kits to fit your vehicle's needs and your budget.
More powerful engines, longer gear ratios and new lifetime specifications have led to the development and introduction of more complex car clutch designs such as Valeo SAT (Self Adjusting Technology).
The SAT is a Valeo revolutionary technology that uses a self-adjusting facing with a wear compensation device on the pressure plate, thereby enhancing the clutch life and improving pedal comfort. Valeo also supplies its self-adjusting technology to truck manufacturers.
As an aftermarket solution provider, Valeo engineers have designed a new technically advanced clutch kit named HEC (High Efficiency Clutch) to replace the competitors' self-adjusting clutch and give full satisfaction in terms of quality, reliability and durability.
This result is achieved with an improved clutch cover assembly and a low-wear facing (ranging from 190 mm to 260 mm), resulting from years of research in Valeo's R&D centres. This solution does not require a specialist tool to facilitates fitting operations.
The KIT4P clutch kit provides a complete conversion kit to replace a dual mass flywheel with a solid flywheel for longer durability. The solid flywheel is guaranteed with a 1 million km warranty. 
The Valeo clutch kit offer also includes:
3PKIT including concentric slave cylinder (CSC): more than 500 part numbers available
Self adjusting technology (SAT): 74 part numbers available
LCV clutches: 434 part numbers available of which 100 part numbers are remanufactured
An expanding car clutch offer for Korean and Japanese car application :
Valeo provides large business opportunities for Asian clutch part applications, with the same level of quality and services as Valeo's other ranges.
Valeo is investing in all product lines to vastly extend its clutch kit offer for Korean and Japanese vehicles and help you to rationalise your sourcing. 
Thanks to the car clutch range (including over 670 kit part numbers), Valeo's estimated Asian car range coverage is now at 80%.
Some well-known clutch applications are available for Hyundai Accent, Nissan Micra, Daewoo Matiz, Suzuki Grand Vitara and Toyota Aygo & Yaris and many more.
Valeo Clutch Conversion Kits
Want to know more about Valeo Clutch Conversion Kits? Watch our free 50-minute webinar for an in-depth explanation of the Valeo KIT4P Clutch Conversion Kit.
Are DMFs better than solid flywheels? Learn about the pros and cons of different flywheel types and which vehicles are compatible with the KIT4P system.
You may also be interested in our short webinar on interpreting foreign language labels on clutch friction plates.