Valeo ClimSpray™ Car Air Purifiers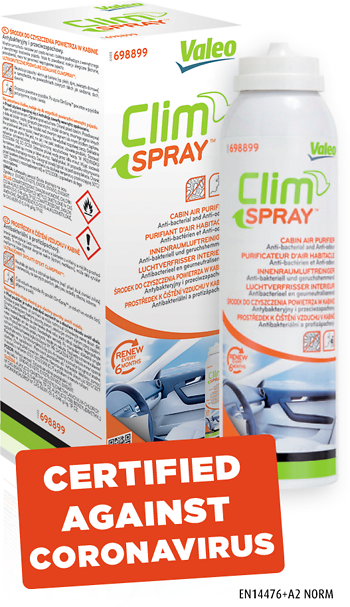 Use Valeo ClimSpray™ to disinfect and purify your car cabin! This car air purifier protects you against viruses (including Coronavirus), bacteria and fungi. 

Its efficacy was certified by an independent laboratory in May 2020.

The dual action of the Valeo ClimSpray™ cabin purifier begins by attacking the roots of the infectious microorganism proliferation and then diffusing a pleasant fragrance in the car cabin. 

ClimSpray™ is compliant with virucide, bactericide and fungicide norms, including EN 14476+A2 (proving efficiency against Coronavirus) EN1040, EN1275, EN1650, EN1276 and EN13697.
ClimSpray™ car air purifier is safe to use inside the car and is harmless to plastic and rubber material.

ClimSpray™ cabin purifier is quick, effective, and practical. It's also easy to use. Simply let the spray automatically release for 15 minutes to purify your cabin. No special tools are needed. 

Valeo recommends you use ClimSpray™ once a year to thoroughly clean your cabin air, while cleansing your A/C system with ClimPur™ and replacing the ClimFilter™ with a new one. Depending on how frequently you use your car and your individual needs, you may want to use a car air purifier more often.