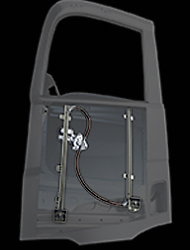 Electrical Accessories for Bus
As a key player in aftermarket replacement parts ensures availability of parts for new applications. Valeo has also a complete range of accessories for all kind of vehicles, well aligned with OE requirements. Valeo provides electrical accessories with a good price/quality ratio. 
Horns: Valeo is a key player in aftermarket replacement parts and ensures that parts are available for old and new car applications, whereas car makers focus solely on recent applications. The range is aligned with OE requirements and has obtained European regulatory approval. 
Relays: 100% of the relays produced are checked, and as a result, Valeo offers a highly-quality range. We advise our clients to avoid replacing a relay with a fuse or replacing resistance protection with another type of relay for safety reasons. We provide a technical plan in the catalogue to aid you in selecting parts. 
Plugs and sockets: Valeo provides an extensive range of connectors including 7 pin and 13 pin, type "N" and type "S" connectors. As key player, Valeo relies on its expertise in producing wiring systems and connectors. This expertise is key since transport material regulations are increasingly demanding. All products are produced in compliance with Quality Control Systems and Quality management systems. As a result, we can guarantee customer satisfaction. 
Cigar lighter and multifunctional plugs: Valeo supplies an interchangeable range of cigar lighters and multifunctional plugs. Multifunctional plugs are ideal for charging mobile phones and other electrical accessories powered at 12V.