Car Compressors for Air Conditioning Systems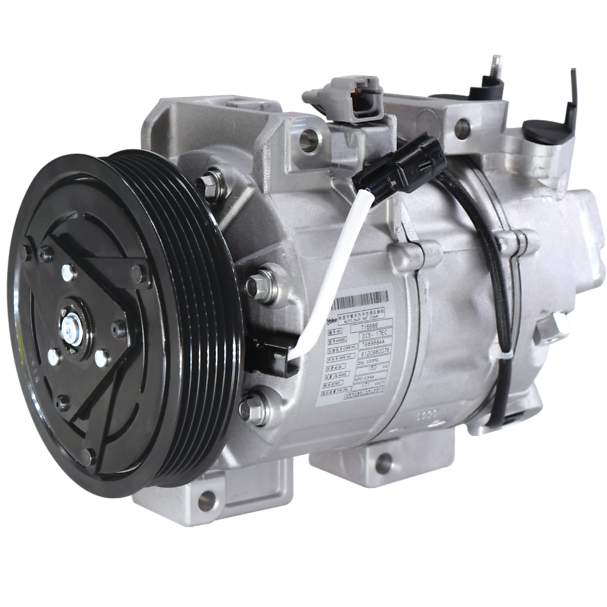 Valeo's New Car Compressors
The A/C compressor is the driving element of the cold A/C loop and is also the most technically complex part of the system. Valeo offers a full range of new car compressors with different technologies to meet a wide range of customer requirements.
Why Choose Valeo Technologies and Innovations ?
Valeo is the only automotive supplier that offers a three-part compressor range: 
Origins for OE New compressor
Core-Flex for OE New compressor
Re-Gen for Remanufactured compressor
Valeo offers free expert technical services including technical training, hotlines and detailed fitting instructions and bulletins in the Tech@ssist portal
A single Part Number (699357) covers over 22 million vehicles in Europe (PQ35 and MQB platforms)
60 Years of OE Experience at Your Service
As pioneers in the development of the first A/C compressors, Valeo is today recognized as an OE expert
Valeo is of the world's leading manufacturers of Air-Conditioning Systems
Valeo has an OE presence all over the world, with plants located in Europe, Asia and America
Take a Closer Look
Discover comprehensive product information in TecDoc, Valeo's online technical catalogue.
You'll find the car compressor's principal technical characteristics and three different views of the part (whole product/pulley/connector)
Valeo Reman Compressors
The compressor is among the most expansive A/C loop components while also being a driving element. Thus, Valeo has developed reman as a cost-effective alternative for your customers. 
Valeo has mastered the reman process into the following steps:
Collecting the cores and sorting them according to technical features
Disassembling the cores, with the pump on one side, and the clutch on the other
Washing all parts 
Remanufacturing the sub-components
Testing the sub-components according to a 45-point checklist (visual, electric and functional)
Systemically replacing all worn parts with new components (O-rings, seals, bearing) to ensure durability
Testing the finalised compressor to ensure product safety: 
Leak test
Functionality test
Nitrogen fill test 
Valeo's best-in-class reman process is based on OE processes and specifications. The end result is a cost-efficient part which reduces waste (+1kg Reman = -1kg CO2)
Why choose Valeo reman compressors?
Valeo reman compressors are made according to OE specifications
100% of the compressors and their components are fully tested during the production process
Valeo electrically driven compressors
Whether a vehicle is powered by an internal combustion engine or an electric motor, the compressor plays a major role in the cooling/heating loop. Discover the innovative design of Valeo's compressor solution for battery electric & hybrid vehicles
A Scroll Design: Made for low vibration and low-noise for enhanced passenger comfort, featuring best-in-class NVH
An Integrated Electric Motor: Runs the compressor even when the engine is off to maintain a comfortable cabin temperature, saving fuel and reducing CO2 emissions
A Specific Mounting Design: Muffles high speed noise and vibration for a quieter drive
Why Choose Valeo Electrically Driven Compressors? 
High Performance: High cooling capacity for both cabin air conditioning and battery thermal management
Ultra Compact: Light weight for lower energy consumption
Maximum Durability: Structurally designed for heat and vibration resistance
---
FAQ ⤵︎

How to maintain the automotive air conditioning compressor?

During compressor maintenance, you will need to:

Check the condition and tension of the belt
Always use an oil specified by the manufacturer in the exact quantity according to the compressor capacity
Flush the entire system before adding new fluid
Replace the o rings each time you install or reinstall the compressor

 

Maintenance also requires some precautions. During this procedure, Valeo advises the repairer to:

Not reuse used oil in the new compressor
Never install a new compressor without flushing the entire air conditioning circuit
Strictly control the oil, avoiding randomly adding oil to the system

 

How to resolve issues with the automotive air conditioning system?

If you have any questions or difficulty installing Valeo components for the automotive air conditioning system, please contact Valeo's technical assistance hotline. Valeo's team of experts is prepared to resolve any problem quickly and remotely, providing all necessary assistance during the parts installation process.