Car Air Conditioner Condensers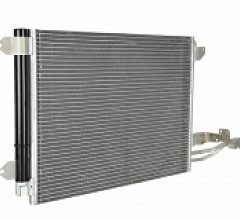 The car air conditioning condenser is a heat exchanger that converts the refrigerant from a gas to a liquid state. As a part of the car A/C system, the condenser is always located in front of the radiator.
As a leading manufacturer of car air conditioning systems, Valeo has brought several innovations to car condensers, including award-winning water condensers. Valeo's OE quality and innovative design ensure customer satisfaction with long-lasting, high-performance condensers. Choose Valeo and stay cool with condensers from the car air conditioning experts!
Innovation: Valeo Water Condensers
Valeo's innovative water condenser uses water instead of air to liquefy air-conditioning refrigerant vapour. In addition to the water-cooled charge air cooler, the water-cooled condenser links the engine cooling loop to the A/C system. Valeo's water-cooled car air conditioner condensers are part of a specific hot loop/cold loop thermal management architecture.
Valeo's water-cooled car condenser has several benefits, like a significant reduction in CO2 emissions and fuel consumption compared to conventional car condensers. It also reduces pressure fluctuations in the air conditioning system. 
What's more, the water-cooled car condenser does not need to be located in front of the radiator, which:
Frees up space for additional components in hybrid models
Reduces radiator fan electricity use by improving air circulation
Focus On Performance: SHP+ Condensers
Valeo's patented SHP+ car condensers improve the cooling performance through re-designed micro-tubes and a compact crimping process.
This technology ensures better thermal performance and lower consumption (compressor torque reduction.) This technology has been featured on mass-produced Asian and European vehicles since 2014.
Key Advantages of Valeo A/C Condensers:
Fins: Minimal space between condenser fins (less than 1mm of distance between fins) allows for a maximised heat exchange for optimal cooling performance
Tubes: Multichannel tubes allow for excellent heat penetration
Receiver Drier: Selected models include an integrated receiver drier, enabling more efficient subcooling. Efficient subcooling means that even if the refrigerant level decreases, the air conditioning system remains effective
Extensive Coverage: The Valeo A/C condenser range covers a variety of powertrains, including electric and hybrid vehicles
Valeo Expertise
Valeo is a complete air conditioning loop expert providing the majority of the A/C and HVAC (Heating and Ventilation A/C) components to car manufacturers
Valeo produces car aircon condensers for Car Manufacturers worldwide in OE plants in Europe, Asia and the Americas
Valeo Quality
Valeo OE quality ensures a proper fit, saving your workshop time. Valeo car condensers are tested to meet OE standards including corrosion, vibration, and leakage tests
Valeo condensers are designed to adapt perfectly to your vehicle with an easy fit. Secure packaging and intensive crash tests ensure our condensers will reach you in perfect condition
Valeo car air conditioning condensers minimise the effects of thermal shock to extend the condenser lifespan
Valeo Technology and Innovation
Valeo is a one-stop-shop solution for all air conditioning and thermal loop components in your vehicle (Compressor, condenser, blower, radiators, fan systems, A/C accessories, tooling)
Valeo Service offers an adapted logistics service with 8 European distribution platforms, and optimized pallet or container offers for fast movers
---
FAQ ⤵︎

When do you need to change the air conditioning condenser?

As the automotive air-conditioning condenser is installed in the front of the vehicle, the biggest problems requiring the part to be changed are related to frontal collisions. Some other situations that typically require replacement are related to corrosion of the component (due to moisture present in the system), contaminated or blocked fins, and the impact of stones or other external objects.

 

How to solve troubles with the automotive air conditioning condenser??

If you are in doubt or have any difficulties installing a Valeo automotive air conditioning condenser, please contact our technical assistance hotline. Valeo's team of experts is prepared to resolve any problem quickly and remotely, providing all necessary assistance during the parts installation process.