Valeo ClimPur™ Car Air Conditioning Cleaner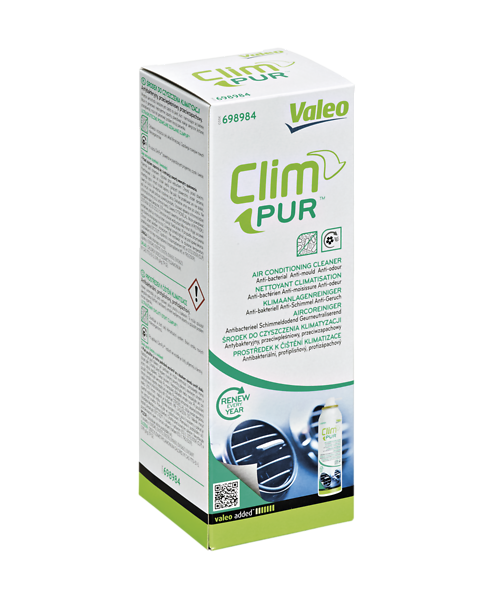 Purify your air conditioning system!
Did you know that your car's air conditioning system offers ideal conditions for germs, contaminants and viruses to develop? These microorganisms can enter your cabin through the air vents, which makes disinfecting and decontaminating your air conditioning system essential.
Valeo's ClimPur™ car air conditioner cleaner is the solution!
Valeo ClimPur™ has a triple action effect; it cleans, disinfects and protects.
It's harmless for car HVAC systems, prevents evaporator corrosion, eliminates bad odours and leaves a pleasant lemon fragrance.
ClimPur™ is not aggressive and efficiently eliminates the bacteria, guaranteeing you fix the problem with long-lasting, preventative results. This car air conditioner cleaner is non-flammable, making it safe to use in garages.
Using foaming or heavily formulated cabin cleansing alternatives may block the A/C system.
ClimPur™ has a microscopic, tiny formula based on ultrafine drops, maximising correct product distribution and efficiency.
Valeo ClimPur™ has been tested and certified against bacteria and germs. This car air conditioner cleaning product is compliant with bactericide and fungicide norms, including EN1040, EN1275, EN1650, EN1276, and EN13697.