Valeo AquaBlade™ Windscreen Wipers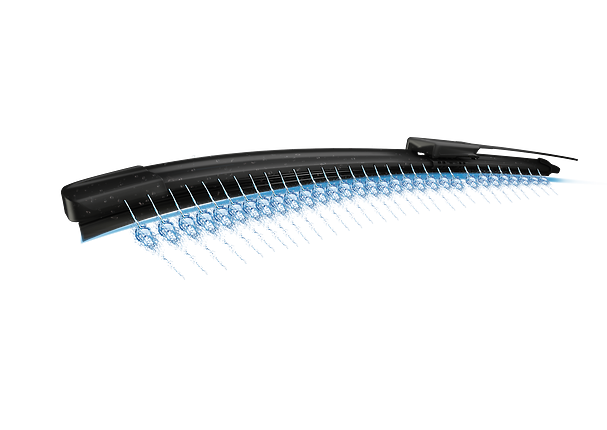 Valeo Wiping Technology - The Valeo AquaBlade™
Discover the latest innovation in windscreen wiping technology
WHAT IS VALEO AQUABLADE™?
Learn What Makes Valeo AquaBlade™ Unique among Wiper Blades
Valeo's patented and award-winning AquaBlade™ windscreen wipers are recognised as a major innovation in automotive technology. Compared to conventional wiper blades, they considerably improve safety, comfort, and performance.
The Need for Integrated Cleaning
Windshield wipers have been around for a long time, so what need is there for innovation? Valeo developed AquaBlade™ in response to key trends driving a need for more effective windscreen wipers.
These include changes in consumer preferences and body styles, which increase the windscreen surface and make traditional wiper blades less effective.
In addition, new technology requires the entire windscreen surface to be clean to function properly. These evolving needs informed the design of AquaBlade™.
Valeo AquaBlade™ Characteristics
Valeo AquaBlade™ has special characteristics that improve its performance over traditional wiper blades and conventional wiper-integrated spray blades. So what is unique about the design of Valeo AquaBlade™ wiper blades?
Valeo AquaBlade™ uses a flat blade with small, laser-cut holes that allow the washer fluid to be distributed along the entire length of the blade. It enlarges the wiping pattern and corrects the uneven washer fluid distribution problem. In comparison, other wipers rely on spray nozzles either located under the hood or installed on the wiper arm. 
Valeo AquaBlade™ windscreen wipers have many benefits:
No more cleaning fluid jet obstructions
Better visibility and comfort for the driver
Larger cleaning area that reaches the upper windscreen where cameras and other systems are located
Better night visibility (reduces glare and blur)
Cleaning quality is preserved at all vehicle and wind speeds
Faster driver reaction time & shorter braking distance*
*Source: Fraunhofer Institute IOSB study
The heated version of AquaBlade™ premium wiper blades reduces the effects of freezing and improves driver comfort in cold climates.
Launched in 2012 to supply Original Equipment, Valeo AquaBlade™ is now offered to the independent aftermarket with more than 20 parts numbers, offering the same original technology in all versions: unheated, heated, rear wiper blade...etc.
Benefits for workshops
Since Valeo AquaBlade™ became available to the Independent Aftermarket, customers have enjoyed a variety of advantages compared to conventional wiper blades.
Valeo AquaBlade™ benefits
Brand image of mechanics
Strengthens the image of mechanics as innovators : the latest OE innovation in wipers is now available for the IAM
Same wiper as OE
Aquablade™ brings the same look, performance and options (heated/unheated) to the IAM
Quick change
Depending on the vehicle, AquaBlade™ connects to your vehicle in one or two easy steps: 
One-click connection: the wiper arm connects in one click, including:
    > The fluid connection
    > The electrical connection (for wipers equipped with the heating option)
    > A standard connection to the wiper arm
    > Fluids are connected separately