Valeo Wiper Motors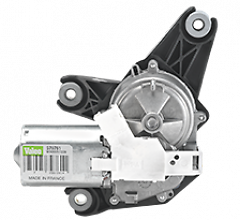 VALEO, THE WIPER MOTOR SPECIALIST
Choose original equipment (OE) wiper motors to ensure customer satisfaction and safety.
Valeo offers a wide range of OE car wiper motors worldwide for the independent aftermarket. As driving with a clear view is necessary for safety, Valeo windshield wiper motors are developed and tested at high-speed and in extreme weather conditions. The windscreen wiper motors are also perfectly adapted to the specific characteristics of the windshield and complete wiper system.
TRUST THE WORLDWIDE N°1 WIPING OE MANUFACTURER*
Valeo provides worldwide car manufacturers with the latest wiper systems innovations.
Made in Europe: France, Germany, Poland & Spain.
In 2019, 1 out of 3 new vehicles in Europe was equipped with Valeo wiper motor.
VALEO SUPPLIES OE WIPER MOTORS TO THE AFTERMARKET:
Valeo front and rear car wiper motors are 100% OE to ensure the same quality, reliability, and security standards for the aftermarket.
Discover what OEM expertise in wiper motors means.
Same high-quality materials
Same long life cycle
Same low noise operation
Same technical features: adapted to specific car windshields (parking position, wiping angle, area, and speed)
Same fitting accuracy: no risk of incorrect mounting or failure, fitting with entire wiping system is guaranteed (connectors, links with the rod)
Same safety features (high torque, thermal and water protection)
Leading expertise in rear wiper motors
* Original equipment market share in 2021
Rigorous testing to ensure OE quality standards:
Wiping quality: measurement and monitoring of physical indicators such as wiping angle, power, tension, and speed
Durability
Corrosion resistance
Performance under extreme conditions (cold/hot temperatures, snow, etc.)
Why choose Valeo wiper motors ?
Valeo motors equip a wide variety of marques and models featuring several different wiping layouts, all customised for each application. Valeo's extensive knowledge of wiper systems has produced new innovations in wiper motor technology with key safety, performance, and comfort benefits. 
Valeo is the N°1 worldwide Wiper Systems Original Equipment manufacturer 
A well-known & trusted brand on the market
100% Original Equipment Product : Performance & quality guaranteed
Made in Europe: Shorter supply chain, more readily available
Green Box packaging: Easily recognisable brand identity
Tecdoc visibility
Online videos with fitting instructions
Key points :
In 2019,  1 vehicle in 3 was equipped with a Valeo wiper motor in Europe
Valeo Supplies the biggest wiper motor manufacturers
Designed to last for 1.5 million cycles
Contact a sales representative for more information.
Discover how to replace wiper motors