Regloscope™ headlight car beam setters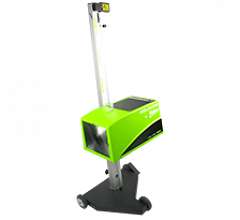 The Regloscope™ uses the latest technologies to make beam aiming control and correction as easy and quick as possible, thus making life easier for mechanics.
Lighting market trends
Xenon has largely been replaced by LED technology
LED technology represents a growing portion of front and rear lighting systems worldwide
60% of Valeo's time-to-market is on LED technology
The market value increases every year
Product volume and unit price are constantly increasing, which has a knock-on impact on inventory value
There is a need for a comprehensive service & tooling offering to replace and calibrate advanced technological products (digital Glare-Free High Beam function, linked to a camera)
Use the right tooling: REGLO2
Develop your lighting business with REGLO2
Light and easy to use
Diagnosis in under 1 minute
Suitable for use with Halogen and most current Xenon and LED technologies
Enables customer service compliant with technical inspection requirements
WiFi connectivity (optional)
Regloscope™ features
Two modes:

Inspection (roadworthiness, PTI)
Adjustment

Headlamp adjustment, headlight beam setters: low beam, high beam and for lamps
Data transmission
Accurate sensor
Multi-language mode
Customised features
Runs on Linux OS
Aluminium mast (150 cm), rotation mast
Field calibration, easy, automatic adjustment feature
Laser alignment module
Touchscreen LCD display
Compatible with both left- and right-hand drive vehicles
Long-lasting battery
Made in France
Choose Valeo, the aftermarket lighting specialist
Valeo is a leading company in Original Equipment (OE) for lighting systems, equipping more than 25% of new vehicles worldwide with OE parts.
Valeo has a global presence and customers, with 20 production sites in 14 countries.
Valeo's Tech'Care platform offers professional training and technical assistance for our customers.