Car Fog Lights : Front & Rear Fog Lights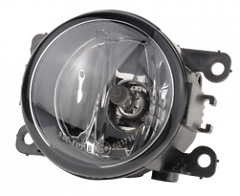 Halogen Fog Lights
Fog lamps are usually integrated into the vehicle's bumper. They produce a wide beam of light with a short range of around 25 metres, thus avoiding any risk of dazzling due to the diffraction phenomenon caused by airborne water droplets.
As an OE supplier, Valeo pays great attention to detail. Valeo designs innovative solutions like patented ventilation systems to limit condensation, especially under severe weather conditions.
Valeo fog lights also feature high-resistance lenses with a flexible design.
Valeo has also developed combined solutions which include an additional reflecting surface around the fog lamp bezel to provide a cornering system known as a Fixed Bending Light (FBL) system.
This system allows the fog lamp light to turn as the driver turns the steering wheel in curves.
LED Fog Lights
LED bulbs are both more powerful and less energy-consuming than halogen bulbs
That means using LED bulbs in fog lights can help reduce CO2 emissions while offering a brighter light. Thanks to its compact size, this technology allows for innovative designs.
Valeo Fogstar™  
Fogstar is Valeo's OE quality range of fog lights for cars. All Valeo fog lamps conform to European ECE R19 standards.
The Advantages of Valeo's Exclusive Fog Light Range:
Performance visibility up to 500 lumens
Waterproof ventilation system: keeps water out but lets air in
100% glass mirror resists high temperatures
Ready to use: the entire Fogstar™ range includes the lamp
A unique design protected by seven patents