Car Headlamps : Halogen, Xenon, LED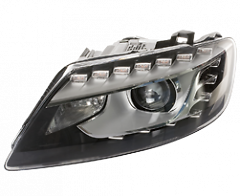 Different Light sources for Headlamps
Halogen Headlamps
Valeo provides more than 1000 Halogen Headlamps references for the aftermarket. Automotive Halogen bulbs have long been a popular choice for headlamp light sources. In fact, halogen technology was first developed by Cibié (a Valeo-owned brand) in the 1950s and has continuously improved since then. For example, the development of more complex reflectors (elliptical modules) have allowed for transparent lenses (instead of striped lenses) and new design possibilities.
Xenon Headlamps
Valeo launched the first Xenon Headlamps in 1996. Xenon bulbs are part of the High-Intensity Discharge (HID) lamps that produce light thanks to an electric arc generated between two electrodes.
Xenon headlights offer more than 30% increased visibility compared to halogen headlights at a longer range (110m vs 80m).
Xenon headlamps also provide a light closer to daylight, i.e. a whiter or blueish light for lower power consumption (35W vs 55W for an H1 bulb) which allows a significant drop in CO2 emissions by 1.3g/km.
LED Headlamps
Light Emitting Diodes (LEDs) provide very efficient light with lower power consumption than halogen and xenon bulbs and extended design possibilities thanks to their compact size.
First used in rear lamps for their new design capabilities, LEDs are now used in headlamps, including on high-end car finishes. Besides offering the same optical performance as Xenon headlights, LEDs have a lower power consumption and last for the car's entire lifetime. Valeo has launched full-LED headlamp applications for many popular models.