Valeo Safe Side - The Blind Spot Detection System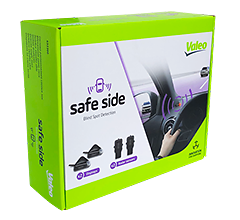 Why Install a Blind Spot Detection System?
Have you ever had a near miss? Are you hesitant when changing lanes? Or do you find it difficult to judge the distance of headlights in your mirrors at night? Install Valeo Safe Side for added safety and comfort when changing lanes. Here's how it works:
When another vehicle is passing you, the blind spot detection system alerts the driver with a yellow light
If the driver uses the turn indicator and there is a vehicle in the blind spot area, the system will alert with a red light and a beep
Night driving mode is activated when tail lamps or headlights are switched on for a more comfortable warning at night

Why Choose Valeo Technology and Innovation?
Valeo is the market leader in driving and parking assistance, with more than 500 million sensors on the roads today
Valeo parking solutions provide accurate detection tested and approved by Valeo engineers
A wide range of parking and driving assistance products are available to cover all of your needs