Valeo Beep&park™ Car Parking Sensor System with 4x Sensors + Loudspeaker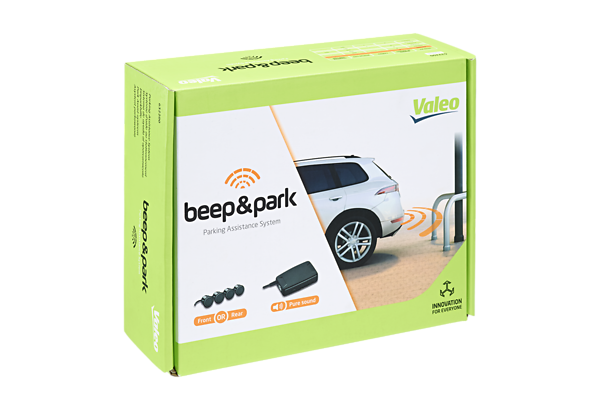 A solution to your parking needs
Are you afraid your rearview mirror could be hiding pedestrians or obstacles from your view? Low-lying obstacles and bollards near parking spaces increase the risk of collision.
Before Installing Valeo Beep&Park™ Front or Rear Parking Sensors:
"My bumper is often scratched or dented and repairs cost a small fortune. Not to mention that fitting sensors to my bumper would probably negatively impact my car's appearance."
After Installing Valeo Beep&Park™ Front or Rear Parking Sensors:
"Now I can even detect difficult-to-see obstacles behind or in front of my vehicle thanks to my new beep & park kit. Even better, the sensors are perfectly flush to my bumper and don't affect the appearance of my car."
Beep&park™  is the ideal solution for parking in places that are narrow or offer poor visibility
Detection Sensors
The system features 4 ultrasonic front or rear parking sensors for consistent detection.
Rear parking sensors are activated as soon as the reverse gear is engaged.
Front parking sensors are activated for 30 seconds when the vehicle starts, and remain active for 8 to 20 seconds each time the brake pedal is released (depending on the chosen setting.)  
The parking sensor system detect obstacles in front or behind the vehicle (other vehicles, posts, pedestrians, etc.) and alerts the driver with an alert sound.
The audible alert gradually increases. An intermittent beep becomes continuous once the vehicle is within 30 cm of the obstacle.
The car parking sensor detects obstacles between 10cm and 170cm from the vehicle.
A Diagnostic Function
The sensor system automatically detects defective or badly fixed parking sensors and warns the driver.
Valeo introduces a flush mount parking sensor kit to the beep&park™ range to allow you to benefit from the latest innovations
Optimal Performance
New electronic control unit for optimal detection in case of heavy rain
New sensor design for improved evacuation of water droplets
Optimal Compatibility
The range is compatible with a pulsed reverse signal. It applies to vehicles in which the reverse light does not have a DC supply voltage (12 VDC) but a modulated, pulsed supply voltage (12 V~)
Compatible with towing systems
Certifications : E-mark, CE & Rohs and REACH, MALSO standard complaint (ISO 17386)
Optimal Fitting
Adjustable support and screws for bumpers between 2 and 4mm