Valeo Park Vision™ rear view camera with 4x sensors + TFT Display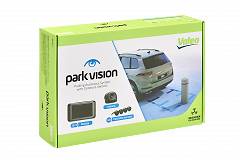 The Park Vision™ 632211 wide-angle car rear view camera and rear parking sensor features 4 flush-mounted sensors that can be fitted to the rear of your vehicle, with a TFT display to show the surroundings behind the vehicle.
Reversing Made Easier
Park Vision™ shows obstacles or pedestrians not visible in your rearview mirror. Equipping your car with a reverse camera and sensors makes detecting obstacles becomes easier without affecting the appearance of your vehicle.
Park Vision™ is the ideal solution for parking in places that are narrow or offer poor visibility
Rear Parking Sensor
The system features 4 flush-mounted rear parking sensors which detect the distance of obstacles behind the vehicle
Wide-Angle Camera
The wide-angle reverse parking camera (View angle: H: 120°±5°V: 100°±5) offers a broad vision of the surroundings behind the vehicle
The car rear-view camera can be fitted on the number plate of the vehicle for an even broader vision of the area at the rear of the vehicle
Control Screen
A detachable colour TFT screen is installed on the dash or above the rear-view mirror.
The screen shows the images captured by the car rear-view camera.
Parking Assistance Lines Feature
Parking assistance lines on the screen guide the driver when parking
The screen displays the distance of obstacles in metres and inches
It shows three distance levels, represented by green, yellow and red parking assistance lines
Several configurations of the parking assistance lines are available, depending on the angle and height position of the reversing camera