Ultrasonic Parking Sensor Technology for Cars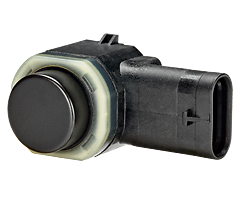 Valeo is a global leader in parking assistance systems, producing parking sensors in Europe, Asia, America and Africa for most car manufacturers.
Valeo has been an OE (Original Equipment) and OES (Original Equipment Supplier) partner of all major car manufacturers since the 1990s, producing more than 500 million OE car parking sensors. Valeo also offers aftermarket parking sensors in its beep&park™ and Park Vision™ parking assistance ranges.
An Expanding Market
More and more European vehicles are equipped with Valeo parking assistance systems. In 2016, Valeo produced more than 92 million car parking sensors, averaging 7.5 sensors per vehicle.
OE Quality Products
Certified ISO TC 204 and comply with MALSO standards.  
Designed to face the harshest environmental conditions (-40°C to 95°C)
Features high-quality obstacle detection, controlled by powerful, state-of-the-art software
Comes with original decoupling rings to avoid vibrations and water intrusion 
30 part Numbers
More than 70 million vehicles covered across Europe
10 million + vehicles are equipped with Valeo parking sensors every year!
Why Choose Valeo Technology and Innovation?
Valeo's OE expertise makes it a worldwide leader in car parking sensors:
A streamlined range of expertly designed, standardized parking sensor products for maximum model coverage
Easy identification: all product information is listed in digital and print catalogues (OES part numbers, car brand and model details, mounting position)
Easy fitting: plug-and-play products, no diagnosis tool initialization needed 
Easy integration: paintable sensors and decoupling rings come in 3 different colours to match any bumper
Technical expertise: Valeo provides high-quality expert support dedicated to the IAM (technical trainings, detailed fitting instructions, tips and advice)