Car Air Conditioning Evaporators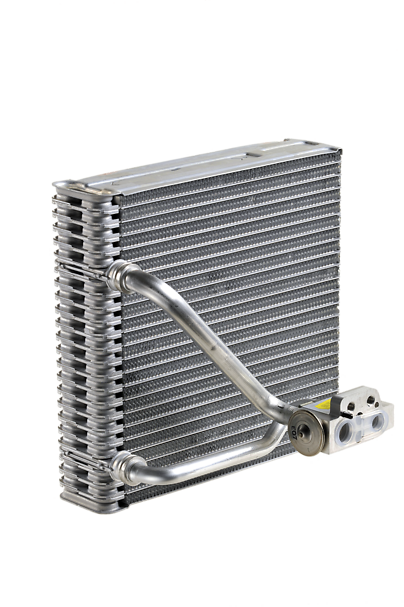 The car air conditioning evaporator is one of the components responsible for the heat exchange necessary for the car A/C system to function.
The outdoor air cools down as it passes through the evaporator fins, transferring the heat to the refrigerant.
The cool air is then blown into the cabin at temperatures between 2°C and 10°C. 
Air conditioning is often considered a means to cool air, but one of its most important roles is dehumidifying the air.
Reducing humidity levels in the cabin is essential in cold weather, as multiple passengers will quickly produce condensation on the vehicle's windows. 
As cabin air moves through the A/C system, the condensation process on the evaporator fins effectively removes condensed moisture from the cabin air.
This condensation (water) is then collected and evacuated beneath the vehicle.
Valeo OE Quality
Valeo is a world leader in automotive air conditioning, manufacturing evaporators to supply automakers and the aftermarket. Valeo is a pioneer in producing components for automotive air conditioning and one of the leading choices of automakers worldwide.
The quality standards of the evaporator manufacturing process follow the technical and safety requirements of the largest automotive manufacturers. Valeo aftermarket car A/C parts meet the same standards as those equipping new vehicles, guaranteeing the component's performance, safety, and durability.
Troubleshooting:
The most common problems with car air conditioning evaporators are:
Perforation due to corrosion
Fins clogged with muck or blocked with frost
Leaks from the couplings
Valeo Info:
Always replace the receiver drier and the expansion valve/orifice tube when replacing the evaporator
The car air conditioning evaporator must be replaced if it is clogged, pierced or contaminated with persistent mould
---
Frequently Asked Questions ⤵︎

How to resolve issues with the A/C evaporator?

If you have any questions or difficulty installing Valeo car A/C evaporators, please contact Valeo's technical assistance hotline. Valeo's team of experts is prepared to resolve any problem quickly and remotely, providing all necessary assistance during the parts installation process.