Car Brake Shoes and Fast Fit Drum Brakes Kit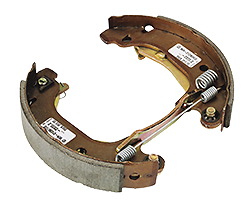 Car Brake Shoe Kits used to be fitted on both axles, but evolving braking power needs and new technologies, have made these products exclusive to the rear axle. Braking power also explains why these parts are now only fitted on small urban vehicles. 
The Valeo Rear Brake range comprises over 871 references covering a variety of vehicles from Asian, French, German, and other manufacturers. Quality and comfort for the end–users are essential. All Valeo Rear Brake suppliers comply with the strict standards required to produce Valeo products.
The Valeo Rear brake range is composed of different segments:
Rear Brake Shoes: 375 references
All-in-one Brake Kits: 145 references 
All the components are included in the same box
Contents of the kit: > 4 Brake Shoes > 2 wheel cylinders > Springs kit > Fitting instructions
Fast Fit Brake Kits: 351 references 
The parts are already assembled in the box 
Contents of the kit: > 4 Shoes > 2 wheel cylinders > Springs kit > Fitting instructions > Self-correcting adjuster > Hand brake lever (Bendix system) > Grease