Premium Car Brake Pads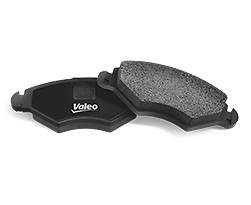 Brake pads are a critical safety device on any vehicle as they enable the vehicle to quickly come to a complete stop, even if travelling at speed. It is the most sensitive friction part in a braking system, situated between the constraints of the brake discs and the caliper piston.
Valeo provides 98% of the European carparc with solutions dedicated to the aftermarket. As a premium supplier in the automotive industry focused on quality and innovation, Valeo uses the best technologies for its premium brake pad range to achieve shorter braking distances, better resistance to fading, and optimal braking performance. 
Valeo used the best possible technologies for its premium brake pad range to offer the same, or sometimes superior, performance to OE products in braking distance, fading resistance, and optimal braking performance under all circumstances.
When a car brakes, the most critical safety element in a braking system is smaller than the surface of a hand. 
On this surface: 
The kinetic energy is transformed into heat, slowing down the vehicle until it comes to a complete stop.
All physical components must be controlled to ensure proper vehicle handling
All vibrations must be absorbed to avoid noise.
OE specifications back to basics: vehicle-specific designs must ensure maximum effectiveness.
For optimised fitting and braking effectiveness
100% pre-bedded pads 
All Valeo premium pads are pre-bedded on the production line to limit the fading effect. This step ensures complete braking effectiveness from the very first braking.
Packaging 
Redesigned packaging protects the integrity of pads until mounting. The modern, practical and compact packaging makes life easier for professionals and ensures optimised part identification thanks to larger labels.
Many accessories included in the box. 
Valeo car brake pads are easier to fit because there's no need to order additional parts.
Designed to protect the environment and your health
100% of the brake pads range is designed without heavy metals
98% of the brake pads range is designed without copper (class N according to SAE J866)
The brake pads range consists of the optimal friction materials for limited wear and sustainable consumption
Valeo premium brake pads use the best technologies 
Valeo pads developed for the OE market are vehicle-specific. 
For the aftermarket, one friction material covers many different car applications.
 
As a premium aftermarket specialist, Valeo provides high-quality technologies through its innovative braking range to improve safety and comfort for each application.
---
Frequently Asked Questions ⤵︎

How To Find The Right Valeo Premium Brake Pad For My Vehicle?

Visit the Tech@assist Portal to search for a part by model or VIN. With a dedicated premium offer covering 98% of the carparc, you are likely to find a suitable part for your vehicle. If premium brake pads are not suitable for your vehicle, the affordable Valeo First range can meet your needs thanks to its 89% coverage of the carparc.

 

How To Install Valeo Premium Brake Pads?

If you have questions or encounter any difficulty installing Valeo Premium Brakes, please contact Valeo's technical assistance hotline. Valeo's team of experts is prepared to resolve any problem quickly and remotely, providing all necessary assistance during the parts installation process.