Valeo First Car Brake Pads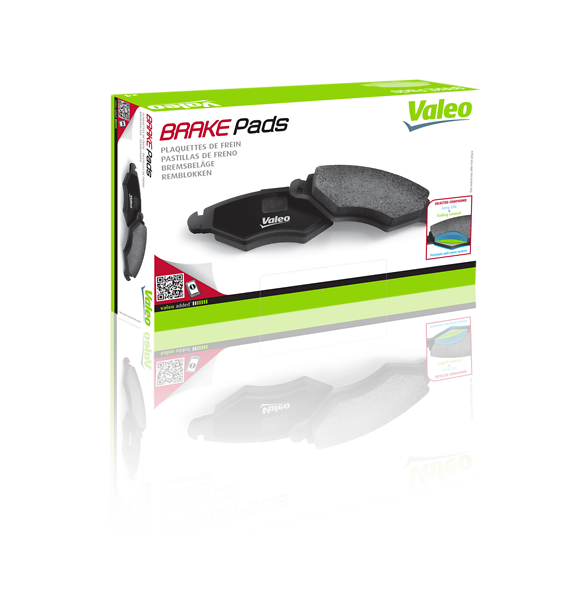 What are Brake Pads?
The Brake Pad uses the friction between two materials to convert kinetic energy into heat and thus reduce the wheel's speed until it comes to a complete stop. As it controls the vehicle's deceleration, brakes are one of the most important safety devices on any vehicle. The brake pad structure is made of several layers, starting with the external layer of friction material all the way to the packing plate. The surface is treated to better absorb vibrations and reduce noise. 
Valeo First Brake Pads are the best choice for efficient, durable, and good-value car brake pads. Choose Valeo First for optimal braking quality, even in extreme conditions.
The First Brake range includes more than 600 products, such as brake pads, discs, drums, and shoes. The First range covers 89% of the car parc with 100% Valeo quality.
Valeo First Brakes for Cars: The Clever Choice
A Clever Product
ECE R90 certified
Full anti-rust treatment
Correct number of accessories
A Clever Range
Top-selling car brake pads
High standardisation
Frequent additions and updates to the range
A Clever Pack
Easy to identify
Easy to stock
Easy to sell
Why choose Valeo First Brakes technology and innovation?
Valeo offers a comprehensive range of high-performance braking products, guaranteeing efficiency and silence for your safety and comfort.
Valeo provides the highest level of technical expertise to garages via a technical hotline, free online training, the Tech@ssist parts finder portal, and other tools for garages.
Valeo offers a specialist maintenance experience combining filtration, braking, wiping, and ignition.
---
Foire aux questions ⤵︎

Problem: Braking jolts

Check: Brake pads / calipers

Cause:

Incorrect caliper position
Damaged accessory

 

Problem: Screeching / metallic sound

Check: Quality of friction materials

Cause:

Fritted brake pads with high metal content = more noise

Check: Something may be stuck between the brake disk and the deflector

Cause:

A pebble is stuck in the braking system and is rubbing against the disk

 

Problem: Metallic sound after braking

Check: Strap / calliper piston quality

Cause:

Check: Brake pad wear

Cause:

 

Problem: ABS indicator on / i error

Check: Disk magnetic disk with bearing, ABS track on each wheel, ABS sensor

Cause:

The disk magnet has a damaged bearing
The teeth of the ABS track are damaged or the sensor itself