Standard Relays for Cars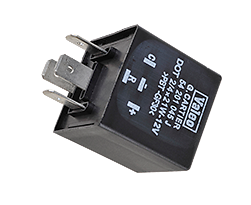 Optimize Your Electrical Accessories Range with Valeo
Valeo is a key player in electrical accessories, offering micro-relays, cubic relays and power relays. This wide variety of relays allows for an extensive range of coverage. All Valeo electrical accessories comply with standard technical criteria.
Valeo offers a large range of multi-application relays in 12V with DIN/SAE standard installation procedures, equipped with a diode, resistance, or fuse protection. As an expert in this area, Valeo provides technical plans in the catalogue to help with parts selection.
Valeo Info:
For safety reasons, do not replace relays with a fuse or resistance protection with another type of relay.