Valeo Car Window Regulator Mechanisms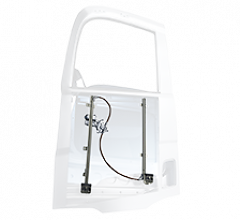 OE Quality Standards for Window Regulator Mechanisms
All products supplied by Valeo respect Original Equipment (OE) standards for durability and performance
Valeo window regulators are thoroughly tested
Valeo selects components according to strict industrial norms
Dedicated QR codes with vehicle-specific fitting instructions guarantee fuss-free installation the first time
Bowden Types
The most common window regulator technology – more than 636 bowden types 
Double Bowden Types
The newest and most innovative window regulator technology – more than 320 double bowden types 
More than 258 million vehicles in Europe are covered
Scissor Systems
A window regulator type used mainly on Japanese and Opel applications – more than 230 scissor systems
Cable Systems
A window regulator mechanism mainly for industrial vehicles and rear doors – more than 50 cable systems
Valeo's Comfort & Anti-Pinch Functions
Comfort Function: A feature that automatically activates the window regulator with a single press of the switch or the remote (depending on the model)
Anti-Pinch Technology:  If the window encounters an obstacle during closing, whether an arm or another object, the window automatically rolls back down to avoid a "pinch." This system also reduces potential damage to the window
Valeo supplies both of these innovative technologies, as featured in our catalogues alongside dedicated pictograms.
Why Choose Valeo Window Regulator Mechanisms?
Valeo window regulators fit all models, whether Passenger Cars, LCVs, or Trucks
More than 1,510 part numbers are available
Our replacement parts are also compatible with comfort functions & anti-pinch technology
Best-In-Class technical services: the QR code on the box links to fitting instructions and training videos to identify and fit Valeo window regulators mechanisms
Take advantage of the complete Valeo electrical accessory parts offer, including car horns, flasher unit relays, and window regulator mechanisms.