Remanufactured Starters & Alternators for cars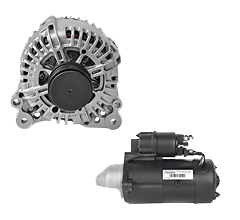 Valeo is a global O.E. leader in Electrical Systems.
1 in 3 cars is equipped with a Valeo Starters or Alternator.
Valeo is the main O.E. and O.E.S. partner of all major car manufacturers.
Valeo's European factory produces almost 100% of our remanufactured equipment.
Certified Original Equipment quality
Certified by the Valeo brand and used by car manufacturers for more than 35 years
Valeo is the main partner of most car manufacturers in O.E.S. for remanufactured starters & alternators
We perform more than 40 tests during the production process to certify quality and durability
O.E. level testing equipment, with identical fitting and replacement operations
All units tested at the end of the production line
One unit remanufactured every minute across the world!
Why choose Valeo Electrical Systems?
Valeo's Remanufactured Starters & Alternators offers O.E.-equivalent product performance
Our high quality remanufacturing process and specifications are based on OEM requirements
We offer a complete and adapted range for newer and older vehicles
New products released instantly onto the market thanks to an efficient Time-To-Market strategy
Our core collection service is Europe's best-in-class
Valeo is the only supplier to offer both remanufactured Hybrid technologies to the aftermarket (Stars & Re-start)