Car pulleys and freewheel pulley range parts for aftermarket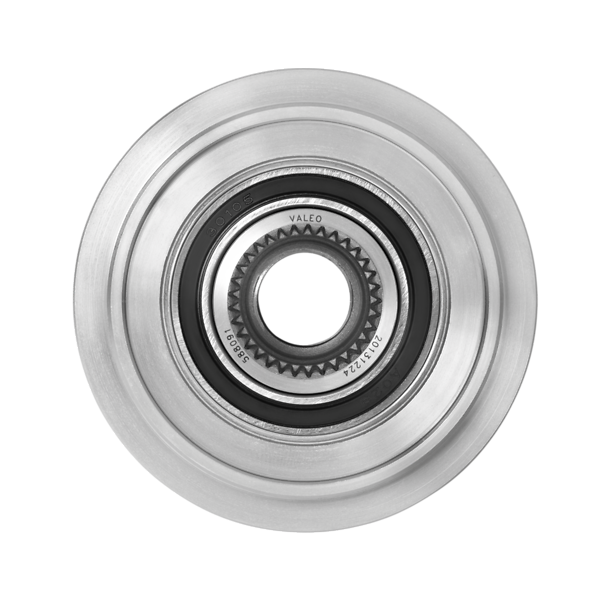 Valeo enlarges its Electrical Systems offer with the Freewheel Pulley range. A Freewheel pulley is the mechanical link between the alternator and the engine output crankshaft pulley. The pulley drives the alternator which allows the battery to be recharged. The Overrunning Alternator Pulley (OAP), also called the freewheel pulley, is a spare part of the complete alternator. It is composed of a pulley with an outside diameter suitable for fitting a "poly-V" belt (drive belt), a one-way clutch unit with bearing supports, an inner ring, two seals and an end cover in plastic.
The Freewheel Pulley is used to:
Protect belt drive system by filtering engine torsional vibrations to improve the belt drive longevity
Ensure belt drive N.V.H. (Noise-Vibration-Harshness) for optimum driving comfort
Stop friction losses caused by belt slippage
Allow the alternator rotor to turn in freewheel mode when the engine is slowing down or stopping for maximum system efficiency, fuel savings and CO2 emissions reduction As one of the leading world experts in Electrical Systems, Valeo presents a complementary range to its alternator portfolio to provide full packaged services for customers.
The Valeo freewheel pulley offer:
107 parts numbers dedicated to 14,000 vehicle applications worldwide. Made of the finest possible materials and bearing, the products have been tested according to Valeo high-quality standards to ensure the strong robustness of each part. With its strong leadership in Original Equipment and more than 30 years of remanufacturing experience, Valeo provides the aftermarket with one of the best offer in Electrical Systems, from the latest innovations to O.E. quality spare parts, and confirms its multispecialist positioning in Electrical Systems for the aftermarket.