Valeo ClimFilter™ Car Cabin Air Filters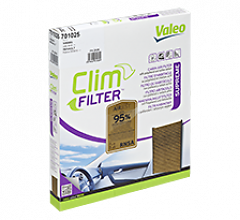 The Valeo ClimFilter™ Essential, Protect, and Protect Max car cabin air filters prevent external pollutants from entering the cabin via the ventilation system inlets.
ClimFilter™ Essential Cabin Air Filter 
ClimFilter™ Essential is a particle filter which protects occupants from dust, pollution and particles. 
You can recognise this filter in the ClimFilter™ range by its white colour.
ClimFilter™ Protect Cabin Air Filter
ClimFilter™ Protect is a combined filter with active carbon that retains particles and protects against harmful gases and unpleasant odours thanks to ultrafine filtration. Valeo recommends ClimFilter™ Protect for users in heavy-traffic areas.
You can recognise ClimFilter™ Protect car cabin air filters by their grey colour. Valeo uses active carbon in its filters to ensure the highest performance and quality standards.
ClimFilter™ Protect Max Cabin Air Filter 
As respiratory issues and allergies are a growing concern, Valeo has developed a revolutionary technology that catches and neutralises pollen from outside the vehicle while also neutralising the effect of allergens inside the cabin.
Polyphenols are natural compounds widely present in plants that are well known for their health benefits. Valeo's ClimFilter™ Protect Max car cabin air filter combines active carbon and polyphenol technologies to provide a complete solution for protection against particles, gases, pollution, and odours. It also immediately neutralises pollen allergens in the filter before they can enter the cabin.
This filter has two colours: the external polyphenol coating is brown, and the internal filter is grey. 
ClimFilter™ Protect Max has a 92% proven efficacy against the most potent European allergens. 
Today, more than 2.1 billion people worldwide and 213 million in Europe (up to 30% of the European population) suffer from problems of inhalation allergy. These numbers have doubled over the past decade. The symptoms of inhalation allergies (sneezing, itching, watery eyes, runny nose, difficulty breathing, but also fatigue, irritability and headaches) are not only a source of discomfort, but can also significantly impair the driver's concentration.
Because pollution and continued exposure to allergens can cause allergies at any age, it is important to reduce this risk.
It's also about safety. And yet, the likelihood of people with allergies being involved in a car crash is 30% higher. Allergic symptoms can also significantly impair driver concentration. For example, when sneezing at a speed of 80 km/h, a driver travels 25 metres with his eyes closed.