Car Fuel Tank Caps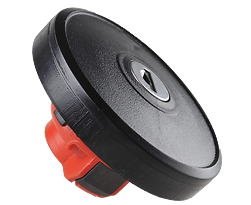 A secure fuel tank is essential. A perfectly sealed tank guarantees vehicle occupant safety in the event of a car crash, especially if the vehicle turns over. It is also crucial for containing fuel vapours and maintaining a healthy and comfortable car cabin environment. Thus, the car fuel tank cap plays an important role in ensuring vehicle occupant safety and comfort.
The barrel is the main weak point of fuel tank caps, as it suffers from mechanical wear over time and can break in case of misuse. Good material quality and barrel design guarantee the cap's durability. These reasons explain why Valeo does not compromise on fuel tank cap material or design quality.
Valeo conducts a complete series of tests on car fuel tank caps to reduce air pollution and contain fuel vapours to deliver the best solution to the aftermarket.
These include:
A high/low-pressure tightness test
A high/low-temperature test 
A temperature variation test
A closing and opening coupling operations test
A prolonged thermal ageing and impact test
Valeo offers a large range of fuel tank caps for specific vehicle applications as well as multi-application caps.