Car Door Locks & Sets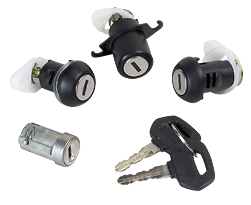 Valeo's Car Lock Offer:

The car door lock can be mechanically operated with a key to switch from a locked to an unlocked position and vice-versa. 
Valeo offers a variety of original equipment-quality door locks and sets, including:
Car door locks
Car lock sets + SCL
Car lock pick sets
Different Lock Types:
Standard lock: The most common, most economical, but least secure as it can be forced open with a false key or tool
 
Disengageable type door latch: Introducing a false key or tool triggers a "loose" rotation of the rotor, which rotates in a vacuum
Valeo provides a barrel & key with random mechanical coding. The driver can still use their existing remote control with the new lock.
Choose Valeo locks for original-equipment quality:

Reliable: A mechanical locking system designed to resist intrusion attempts
Durable: Premium materials like zamac prevent mechanical wear. This economical and ecological material is lightweight yet tough