Commercial Vehicles and Truck Clutch Kits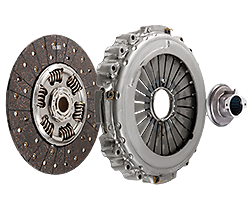 Valeo offers a complete clutch kit range (including cover assembly, drive plates, and release bearings) for commercial vehicles, city buses and coaches, including medium- and heavy-duty trucks up to 44 tons. We only offer premium clutches for commercial vehicles to align with truck fleets' expectations.
SAT (Self Adjusting Technology) is a revolutionary Valeo technology that uses a self-adjusting facing wear compensation device on the pressure plate, thus enhancing clutch life and improving pedal comfort. Valeo supplies SAT technology to both passenger car and truck manufacturers.
Focus on Twin Discs
Valeo Service also offers a complete range of twin disc kits for public works trucks. Our twin disc kits provide higher durability with a +70% increased wear capacity versus single disc technology, and two discs also allow a higher heat transfer.
Focus on the Remanufactured Range
Valeo remanufactures the clutch kit for trucks, especially diameters from 362mm to 430mm. Valeo clutch kits are remanufactured in our Amiens (France) and Bursa (Turkey) plants according to a strict, standardized industrial process. Cores are dismantled, and each component is sorted and tested. Worn components are replaced by new ones. Then, components are assembled on the same line as OE clutches and tested with the same specifications.
A Valeo remanufactured clutch is returned to OE specifications, in good-as-new condition with the same warranty as a new one.
After collection, all cores are sorted, dismantled, and cleaned. Then, the components are tested on benches before reassembly on the production line. The test benches and the production are the same ones Valeo uses to validate OE clutch kits.