Car Air Conditioning Compressors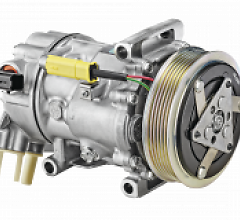 3 key benefits of Valeo car air conditioning compressors:
Quality: our remanufacturing process for car A/C compressors follows the same tests and specifications as the original production of OE (Original Equipment) compressors
Price: the remanufacturing process reuses car compressor cores based on OE technologies only to produce new ones for a more competitive price
Waste Reduction: by reusing worn compressors, we reduce our energy and raw material consumption
Valeo's New A/C Compressors for Cars
The A/C compressor is the driving element of the cold A/C loop and is also the most technically complex component. Thanks to 60 years of expertise in car air conditioning compressors, Valeo offers a full range of new compressors with different technologies to meet a wide range of customer requirements.
There are two main car compressor technologies: 
The piston type is the most common. This type contains swash plate technology and wobble plate technology.
Rotary-type compressors use vane and scroll technologies.
Find the Right Valeo A/C Compressor for Your Car
Valeo car compressor technologies are sold under three names: DKV, DKS and DCS. With more than 440 part numbers, Valeo has the compressor you need.
Valeo OE Standards
Valeo meets car makers' requirements for car A/C compressors thanks to its OE expertise and technical innovation. Each Valeo compressor is tested according to the OE process for leakage, durability, noise, vibration, etc. Valeo strives to reduce noise and vibrations level for greater driver comfort.
Valeo Design Innovation
Valeo car compressors have an optimized design: a high-quality finish and a precise selection of all components, especially for the valves, bearings, pistons, swash plates and clutches, guaranteeing high reliability and enhanced performance.
Valeo Info:
The car A/C compressor must be replaced after a crash, a breakdown or a leak. 
When replacing the car compressor, you must check and flush the A/C loop and change the receiver drier and expansion valve.
Valeo Remanufactured Compressors
Valeo has developed remanufactured car A/ C compressors as a cost-effective alternative to new parts. A Remanufactured compressor is a used product (called a "core") which has gone through a standardized remanufacturing process to return to same-as-new condition.
The Valeo remanufacturing ("reman") process involves the following steps:
Collecting the cores and sorting them according to technical features
Disassembling the cores, with the pump on one side and the clutch on the other
Washing all parts 
Remanufacturing the sub-components
Testing the sub-components according to a 45-point checklist (visual, electric and functional)
Systemically replacing all worn parts with new components (O-rings, seals, bearing) to ensure durability
Testing the finalised compressor to ensure product safety: Leak test - Functionality test - Nitrogen fill test
Valeo's best-in-class remanufacturing process is based on OE processes and specifications. The end result is a cost-efficient part which reduces waste (+1kg Reman = -1kg CO2.)
Why Choose Valeo Remanufactured A/C Compressors?
Valeo remanufactured car compressors are made according to OE specifications
100% of the compressors (and their individual components) are fully tested during the production process