Passenger Car clutch and flywheel kit Valeo KIT4P™ conversion kit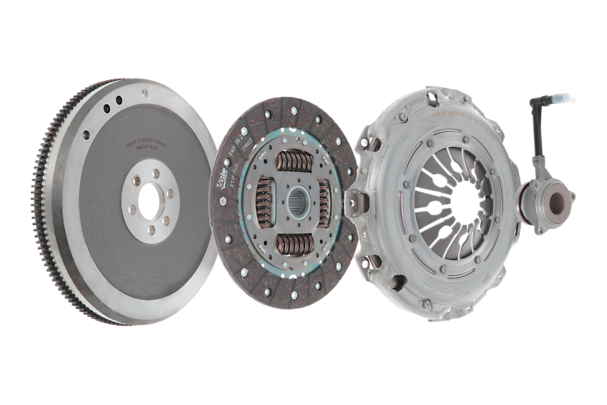 Looking to replace a dual mass flywheel (DMF) clutch in your vehicle? The Valeo KIT4P conversion clutch kit offers a high-performance aftermarket alternative to the DMF, replacing the clutch and flywheel while matching DMF performance over its lifetime.
This Valeo aftermarket innovation celebrates over 20 years of success.
Design
The KIT4P design is composed of a rigid flywheel with no wearable parts. In order to provide the same clutch function, maximum engine torque transfer and full gearbox protection, the Valeo KIT4P contains a clutch kit using Valeo's long travel damper technology, which Valeo widely uses as original equipment.
The Valeo KIT4P rigid flywheel and clutch kit is designed to handle high engine torque common on modern vehicles and provide 100% torque transfer in all drive conditions, improving safety.
The kit's design filters engine vibrations to protect the engine and clutch while also improving driver comfort and driving pleasure. Valeo validates the efficiency of each kit during benchmark tests and vehicle trials.
Applications
Recent KIT4P Valeo clutch and flywheel kit developments cover vehicles such as BMW 1,3,5 Series, Opel / Vauxhall Corsa, Meriva, Combo (1.3CDTi), Opel Agila, Opel Insignia A, Citroën C2, C3, C4, C5, Xsara Picasso, Fiat Tipo, Ford Mondeo III (2.0D, 2.0TDi), Suzuki Swift, Ignis II, Volvo S40, Mitsubishi Carisma, and Audi A3 & TT.
Valeo has also launched the KIT4P with a concentric slave cylinder (CSC) for vehicles fitted with a fully-hydraulic actuation system. 
Today, 168 KIT4P / conversion kit part numbers are in Valeo's range, covering more than 50 million vehicles in Europe, making Valeo parts an excellent choice for any transmission type. 
The clutch kit range will continuously grow to enable us to bring a complete replacement kit to market. Valeo also offers a complete range of service kits to enable an individual clutch replacement. Thanks to long travel damper discs, the KIT4P by Valeo is an economical alternative solution to the DMF, matching performance over its lifetime and reducing repair and maintenance costs in the long run.
The choice of a rigid flywheel or a dual mass flywheel depends on the application and car manufacturer's choice. Valeo offers both flywheel designs to offer the option to customers.
Composition
The KIT4P clutch and flywheel kit is composed of several parts, notably the rigid flywheel, clutch disc, clutch cover, and release bearing.
Depending on the clutch type, the KIT4P clutch kit with flywheel may contain extra parts in addition to those previously mentioned. Kits for vehicles equipped with a mechanical or semi-hydraulic clutch will also include a release bearing. Kits for vehicles with fully-hydraulic clutches offer the option of including a concentric slave cylinder (CSC).
Learn More About The KIT4P
Want to know more? Get a broad overview of Valeo clutch and flywheel kits in our in-depth webinar.
Learn about the advantages of the KIT4P solid flywheel versus a DMF, performance differences between the two flywheel types, and how to make sure your vehicle is compatible with the kit.